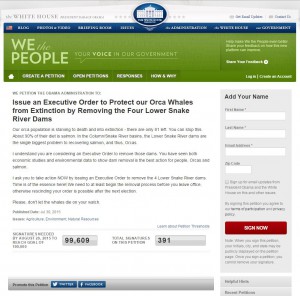 Two petitions are circulating this summer that can help bring about change for Northwest salmon, Puget Sound orcas and taxpayers whose dollars are being wasted supporting a broken status quo on the lower Snake River of eastern Washington.
Though seeking the same outcomes, the petitions ask for different political tactics. The White House petition, which has only been in circulation for a couple of weeks, has generated 390 signatures so far and asks President Obama to issue an executive order to remove the four dams on the lower Snake River.
Please sign the White House petition here.
The other petition, posted to Change.org several months ago, has generated more than 15,000 signatures and seeks Congressional authorization of dam removal on the lower Snake River.
Please sign the Change.org petition here.
"Each year the Snake River dams kill many millions of chinook salmon juveniles as they attempt to navigate the dams and migrate down river and out to the ocean," according to the Change.org petition. "Despite the dams, some chinook salmon do make it to the ocean and grow to adults. The dams again exact their toll when adult chinook return to the Columbia/Snake watershed to spawn. The dams finish the killing cycle by impeding the chinooks' return to their spawning grounds."