Fish biologists warned that the dams shouldn't be built, that a total of 8 dams on the Columbia & Snake would eventually cause the extinction of salmon and steelhead. The Army Corps of Engineers had a very difficult time proving that the dams would provide a positive cost:benefit ratio. Now with salmon abundance at all-time lows, Southern Resident Orcas facing a food shortage, and Bonneville Power Administration in a serious budget crisis, the urgency to breach these four dams has never been greater.
THE IDEA HAS BEEN AROUND FOR DECADES, THE CORPS FIRST DEVELOPED THE BREACH ALTERNATIVE IN THE 2002 Environmental Impact Statement.
*BREACHING MEANS REMOVING THE EARTHEN PART OF THE DAM TO RESTORE A FREE FLOWING RIVER.*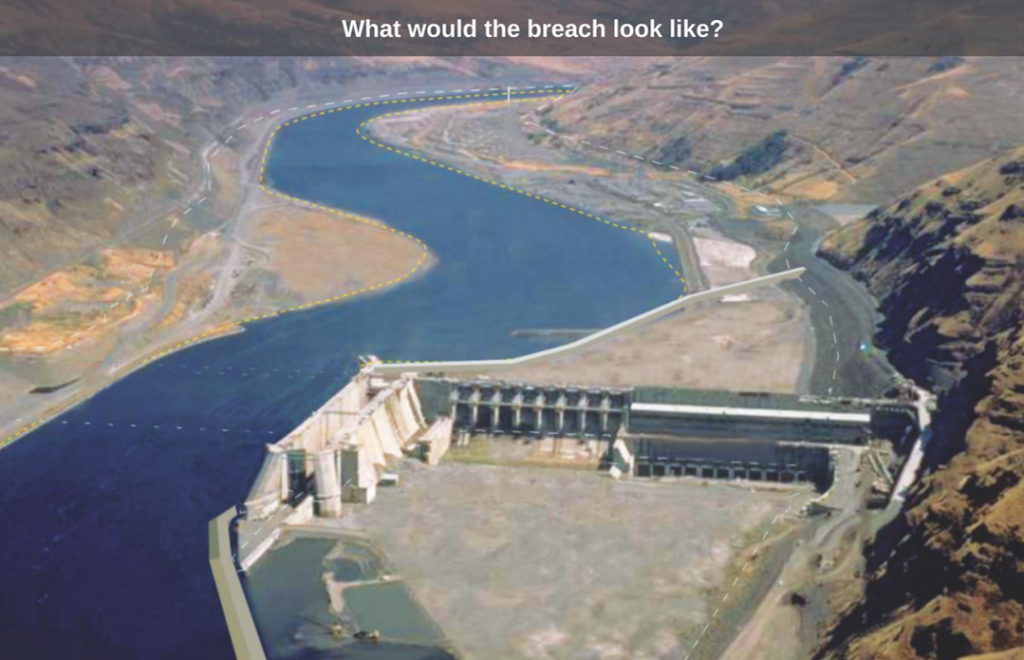 How easy is it for the agencies to make the decision to breach? Read the Five means for Breaching developed by former Army Corps Engineer Jim Waddell.
Sequencing
The Army Corps must take a short time to update the 2002 EIS, then begin breaching Lower Granite & Little Goose dam in one year, followed by Lower Monumental and finally Ice Harbor in subsequent years.
To make sure fish are not affected during breaching, it should occur during the winter Months (Dec- March) when minimal anadromous fish are in the river. Sediment released during breaching will cause adverse affects for fish, so this measure is extremely import and why it will take more than one year to breach all four dams.
Responsibility and Authority
The US Army Corps of Engineers has inherent fiduciary responsibilities to insure existing projects continue to provide economic benefit.
The dams have a Benefit to Cost ratio of 15¢ on the dollar (.15 to 1) in terms of National Economic Development (read the report) the standard by which the Corps must measure economic benefit.
Because of these poor economics the Corps can put the projects into a "non-operational" status. This does not change the project purpose, thus does not need Congressional Authorization.
Reference Policy Considerations
Methodology
Given the relative ease of hydraulically breaching an earthen embankment, there is no need for lengthy modeling, engineering, design or complicated/lengthy contracting. It's important to remember that complete removal is not necessary. Infrastructure can be left in place, while the earthen abutment is simply breached, or removed with bull dozers (see video below). A free flowing river will heal itself.
New dam overtopping modeling software has been developed since the 2002 EIS was drafted which allows a safe breach plan to be created quickly. The breach itself is done in two phases. First, as drawdown of the reservoir is taking place, earth moving equipment, likely two D8 bulldozers and an excavator, will be cutting a notch in the earthen portion of the dam. When drawdown is below spillway crest and the notch cut to that depth, controlled hydraulic breaching will begin which uses the turbine gates to control flow. This takes approximately 8 hours with maximum flows not exceeding high flows normally encountered during spring runoff. Armoring protection and other channelization work can also be accomplished with several pieces of heavy equipment. The entire "construction" effort can easily be accomplished through "Time and Materials" or rental contracts. Details to the breach approach can be found in the 18 Feb 2016 Supplement (unofficial) to Appendix D Natural River Drawdown in 2002 EIS. [/toggle]
Ever wondered what the term "breach" means? Here's a quick animation that demonstrates each step. You'll see that the dam infrastructure, the turbines, locks and the spillways remain in place. That's what makes this method of restoring to a free flowing river so quick and relatively inexpensive.
Cost
The cost of breaching is not cheap but will save money over time. We believe farmers, irrigators, and owners of affected structures must be appropriately compensated for the affects of the breach, ie mitigation costs.
The Corps original cost of breaching and mitigation in 1999 was $859 million. By correcting faulty assumptions, a revised breach cost was calculated in 2016 to be 255 Million. Bringing this up to current 2020 dollars and adding additional mitigation costs will give a general idea of total cost of the breach.
not included in corps estimates:
Irrigation mitigation costs (extending irrigation pipes and pumps), 20 million
Mitigation for railroad upgrades, sidings, and grain handling facilities, 20- 80 million
Read the breach plan estimate report and the updated Mitigation Plan.
© John Twa / Jim Waddell