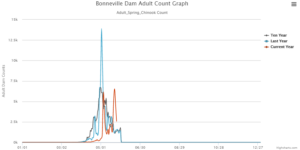 CHINOOK SALMON
As of 5/25/17, the current and recent past counts of Spring Chinook Salmon that have completed passage of Bonneville dam and entered the Columbia River system are:
2017:  69,046
2016:  128,949
10 yr avg:  141,414
As a result of the extremely low returns this year, Washington State fisheries managers have closed fishing on the Snake River.  In addition, Idaho has also closed fishing for Spring Chinook on the Salmon, Little Salmon, and Clearwater Rivers.
---
STEELHEAD
As of 5/25/17, the current and recent past counts of Steelhead are:
2017:  3,049
2016: 4,903
10-yr avg:  5,024
This years returns are forecast to be the worst in decades.  Consequently, fisheries managers in Idaho, Washington, and Oregon are all very concerned about B-run steelhead.  They are mulling measures to protect the fish this season.  That could result in rolling closures, length restrictions, and limit restrictions.
---
So, what's the dam problem?
All of these low salmon and steelhead returns are the result of a hydrosystem that kills over half the juvenile fish on their journey to the Pacific Ocean.  Fish ladders do help adults get up the river to spawn. But passing juvenile salmon down the river is difficult.  As a result, despite the increase in hatchery fish, improvement of habitat, and limits on harvest, salmon and steelhead returns continue to decline.  Removing the four lower Snake River dams would immediately improve fish passage, open up around 70 miles of Fall Chinook spawning habitat, and lead to steelhead, Chinook, Sockeye, and possibly even Coho salmon recovery.
---
All data is from the Fish Passage Center website (fpc.org)
Finally, while what seem to be impressive numbers of fish return to the Columbia River basin today, be aware that historically 17 MILLION salmon returned to the Columbia River each year.