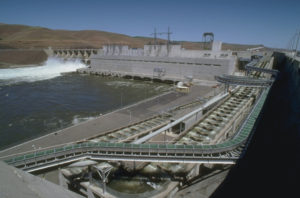 2017 Incidents at Little Goose Dam on the Lower Snake River
A short summary of issues jeopardizing salmon recovery since April 11th
Incident #1
On April 11th, the first juvenile salmon and steelhead deaths at Little Goose Lock and Dam were reported. This was the day after the lock was finally returned to service after three weeks delay due to numerous operations issues. "Higher than normal debris load" through the juvenile collection system killed 94 juveniles.
Incident #2
On April 28th, another debris blockage killed 395 juveniles. This time the Corps implemented additional efforts to
manage debris issues. The salmon deaths prompted a letter from NOAA.
Eric & Ann (Army Corps of Engineers),
If I'm not mistaken this is the second debris caused high mortality incident in the Little Goose juvenile sampling and
collection system in April. I know we all hate to see these incidents that can usually be avoided by due diligence and
observation. I am wondering if its time for you to meet with the staff at Goose and walk through the system to
identify areas that may get plugged and point out how continued observation can alert staff to a developing
problem. I am hopeful this may emphasize the needs and help to avoid further problems. Thank You!
Bill Hevlin
NOAA Fisheries
Incident #3
On May 3rd, another debris clog killed 2,240 juvenile salmon and steelhead. This time gatewell orifices were found
plugged by debris. After this kill incident, orifice monitoring was to take place every 2 hours until further notice.
Incident #4
On May 1st another deadly event occurred when juveniles were mortally injured in passing or wedged into defective
vertical barrier screens because the screens had not undergone seasonal maintenance and repairs. Debris further
damaged the screens and was given as the cause of the approximately 5,000 mortalities, but reporting was late and
vague.
To repair the screens, the Corps took the turbines out of service. Incredibly, 25% of the turbines (6 of 24) at the
four lower Snake River dams have been out of service this Spring (including one at Little Goose). Then the Corps
removed another 3 turbines from service, which left 2 turbines running during these times of high flow. If water
isn't flowing through turbines, it must spill over the dam. This creates high levels of dissolved gas in the water, that
at certain levels causes short and long term harm to juvenile and adult fish. Biologists generally agree that fish can
survive gas levels of 120%, but not a lot higher. With this years excessive spill at Little Goose, dissolved gas levels
went off the charts to 132% below the dam. Downstream at Lower Monumental Dam, 22% of juveniles were
measured with gas bubble trauma and some was severe. Additionally, adults are currently migrating upstream past
the dams and seem to be delayed at Little Goose. This means they too are being forced to endure deadly levels of
dissolved gases and for extended periods of time. This may indeed prove to be Incident #5, and potentially the
most deadly of them all for the fish.
Why did this happen?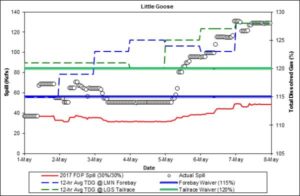 All of these issues stemmed from a lack of maintenance and repair of complex fish passage systems that the Corps does not have the budget to maintain. It is not because of nature, which has become the standard excuse. The flows experienced this year are not unusual and mitigating river debris is designed into the system, but only works if maintained properly. In February 2014, the Little Goose Dam debris boom that had prevented past debris issues was damaged. As a result, debris issues have occurred at the dam each year since the failure. Repairs will not occur until winter 2017-2018. Why has this taken so long? These dams are aging and much of the equipment, including the massively expensive turbines and fish passage equipment, is past its useful life. Operation and maintenance costs are escalating rapidly as predicted 10-15 years ago and budgets are not. Delayed repairs are resulting in exponentially higher future replacement costs. At some point, the Army Corps of Engineers will realize that sinking more money into these dams is futile and a poor way to spend tax and rate payer money.