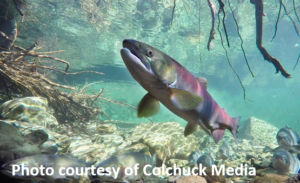 Poor run may spawn steelheading restrictions
Sat., April 1, 2017, 4:11 p.m.
By Eric Barker Lewiston Tribune
The forecast calling for a dismal return of B-run steelhead to Idaho this fall has fisheries managers up and down the Columbia and Snake rivers contemplating regulations designed to protect wild fish and make sure enough hatchery fish return to meet spawning needs.
The small anticipated return leaves little wiggle room for harvest of the hatchery-bred fish and incidental mortality of the wild fish that anglers are not allowed to keep.
Joe DuPont, regional fisheries manager for the Idaho Department of Fish and Game at Lewiston, said restrictions similar to the 2013 regulations that forbid anglers from keeping steelhead longer than 28 inches on the Clearwater River are a possibility next fall. However, he said the department will wait to see what the actual return is before implementing size restrictions or other special rules.
B-run steelhead don't typically reach the Clearwater River until midfall, and biologists are able to track the run via fish counts at Snake and Columbia river dams.
Chris Donley, regional fisheries manager for the Washington Department of Fish and Wildlife, said steelhead anglers on the Snake River are likely going to have to release B-run fish and face a lower-than-normal daily bag limit on A-run steelhead. Anglers on the Columbia will also have to contribute to the effort to protect B-run steelhead, he said.
Washington and Oregon are considering measures such as size limits, limiting the hours per day fishing is allowed and maybe closing some of the places B-run steelhead spend time while progressing upriver, such as the mouths of cold water tributaries like the Deschutes and Wind rivers and Drano Lake.
"If we are going to feel the pain up here, they are going to feel it on the lower river, too," Donley said. "You are not going to see us on this end of the pipe having to carry the whole burden."
The tribes with fishing rights on Zone 6 of the Columbia River, roughly between Bonneville and McNary dams, will track the run and respond accordingly, said Stuart Ellis, harvest biologist for the Columbia River Inter-Tribal Fish Commission.
In the past, the tribes have adopted larger net mesh sizes during poor B-run years. The bigger openings allow more steelhead to escape the nets while capturing abundant fall chinook.
Some fishing groups are calling on the states to take bold steps to protect wild B-run steelhead. The Conservation Anglers wrote a letter to Idaho Fish and Game Director Virgil Moore this week asking him to close the ongoing steelhead fishery this spring to ensure all of this year's wild B-run steelhead survive to spawn.
Regulations already require that anglers release all wild steelhead, but fisheries managers believe that as many as 10 percent of the fish that are caught and released die.
"We are thinking, 'Let's put some fish in the bank.' We are coming up on a very low forecast," said David Moskowitz of Portland.
Moskowitz said the group is also advocating for protective measures on the Columbia River next summer and fall, and in the lower stretches of its tributaries where B-run steelhead often spend some time on their way to Idaho.
"Anytime you are talking about angler restrictions you get people riled up," he said. "We are not afraid. We are standing up for wild fish. If that means you can't go fishing like you always have, that is too bad."