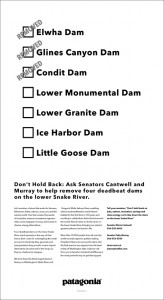 Outdoor clothing company Patagonia took aim squarely at the lower Snake River's four salmon-killing dams in ads released in Washington state newspapers April 23, 24 and 25.
The ads, which feature the tagline "Don't hold back," show three completed dam removals on the Elwha and White Salmon rivers while also showing that Lower Granite, Little Goose, Lower Monumental and Ice Harbor dams on the lower Snake River are still on the list of wasteful infrastructure that need to go. They ran in in the Spokesman-Review in Spokane, The Olympian in Olympia, The Stranger in Seattle and the Pacific Northwest Inlander in Spokane.
The ads ask Washington state residents to contact Sens. Patty Murray and Maria Cantwell, both Washington Democrats, to ask for lower Snake dam removal. Achieving support from the Washington state senators is an important part of the political puzzle that will ultimately lead to getting rid of the four salmon-killing dams.
Patagonia has a long track record of backing environmental causes. In 2013 the company released the acclaimed documentary DamNation, which puts a spotlight on the nation's growing trend of dam removals, with a particular focus on the lower Snake River's wasteful dams. The company organized a letter to the White House and additional elected officials calling for removal of the four wasteful Snake River dams. More than 70,000 signatures were delivered to the White House in January, but if you haven't yet you still have a chance to sign. Please sign today.
Thanks to Patagonia for putting its money where its mouth is and continuing to raise awareness about government waste on the lower Snake River. And thanks to DamNation's producers, editors and story tellers who continue to help raise awareness nationwide about the worthwhile work of ending taxpayer waste and restoring our rivers.