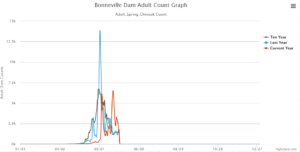 Spring Chinook
At Bonneville Dam, the spring Chinook run ended on May 31st.  The run started late due to river conditions and never fully recovered.  The final number of adults across the dam was 83,624.  This is a 39% reduction from last year and a 44% reduction from the 10 year average.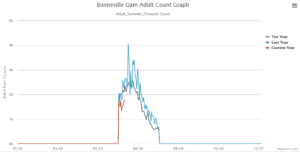 Summer Chinook
The summer run started on June 1st.  As of 6/11/17, the run total was 17,384.  This is a 27% reduction compared to last year, and a 23% reduction from the 10 year average.   River conditions have been difficult for Chinook salmon this year.  But we cannot forget that 61% of juvenile Chinook perished in the hydropower system in 2015, the year that they migrated out to the ocean.
Steelhead
The steelhead run at Bonneville dam is just getting underway and is currently at 3,712 adults, including 1,149 wild fish (not from a hatchery).  Last year at this time, 7,164 steelhead, including 2,611 wild fish had passed.  The 10 year average is 6,985 adults including 2,017 wild fish.  The Washington Department of Fish and Wildlife (WDFW) has restricted the steelhead fishing season as a result.  This is predicted to be the worst steelhead run in 37 years.   A WDFW fishery manager, Ron Roler, left out a key piece of information when he tried to explain these poor results.
"Many of the fish returning this year were subjected to drought conditions in the Columbia Basin in 2015 and unusually warm water in the ocean through 2016," Roler said. "We saw the effects of these conditions in last year's upriver steelhead return, and this year they're even more pronounced."
When these adults were just smolts out-migrating to the ocean in 2015, steelhead mortality through the 4 lower Snake dams and 4 Columbia dams was 64%.