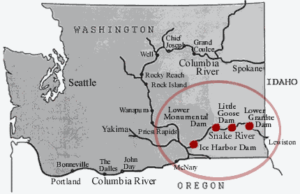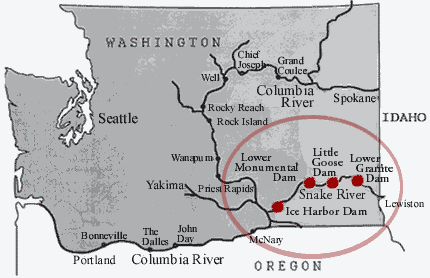 The US Army Corps of Engineers is revising the Lower Granite Master Plan (LGMP).  Public scoping is taking place until April 22nd, 2017 and comments received during this process will be considered during development of the draft LGMP.  
THE ARMY CORPS OF ENGINEERS SHOULD NOT BE DRAFTING A NEW LOWER GRANITE MASTER PLAN, UNLESS IT IS PREMISED ON A FREE-FLOWING LOWER SNAKE RIVER.
Breaching the dams beginning this year is the only salmon recovery measure that will work.  If  the Master Plan is not premised on a free-flowing lower Snake River, the Corps should draft the plan after the CRSO process is finished, or the dams are otherwise breached.
This is YOUR opportunity to let the US Army Corps know that you value a free-flowing Snake River because it has much greater Recreational, Natural, Cultural and Economic value than a stagnant, fish killing, methane emitting reservoir.  Removal of the earthen berm at each dam will return the river to it's free-flowing state.
How you can provide input to this process?  Read more here.