Between 1961 and 1975 the lower Snake River in eastern Washington state underwent a dramatic transformation when four dams were erected to create an inland seaport at Lewiston, Idaho. That transformation has proved costly for riverside communities and taxpayers who continue to subsidize the dams' existence.
Power produced by the dams and transportation benefits they provide pale in comparison with the billions spent by rate payers and taxpayers to maintain a broken status quo.
The rapidly rising costs of maintaining the lower Snake River system are presenting significant challenges to the federal agencies that manage the dams. The cost of mitigation hatcheries for lost Snake River stocks is rising a rate of 5 percent annually, and turbine rehabilitation over the next 15 years will require at least $775 million in today's dollars. A growing set of cost indicators suggest the government can't continue propping up the system.
Meanwhile, since construction of the dams, all of the Snake River basin's wild salmon and steelhead have been listed as endangered or threatened, and several species have been driven to extinction. The demise of Snake River chinook salmon, preyed upon by iconic endangered southern resident orcas in Puget Sound and the Pacific Ocean, is also limiting the orcas' ability to recover and elevating the urgency for action on the lower Snake River.
Expand the dialogue box below to learn why change is afoot on the lower Snake River.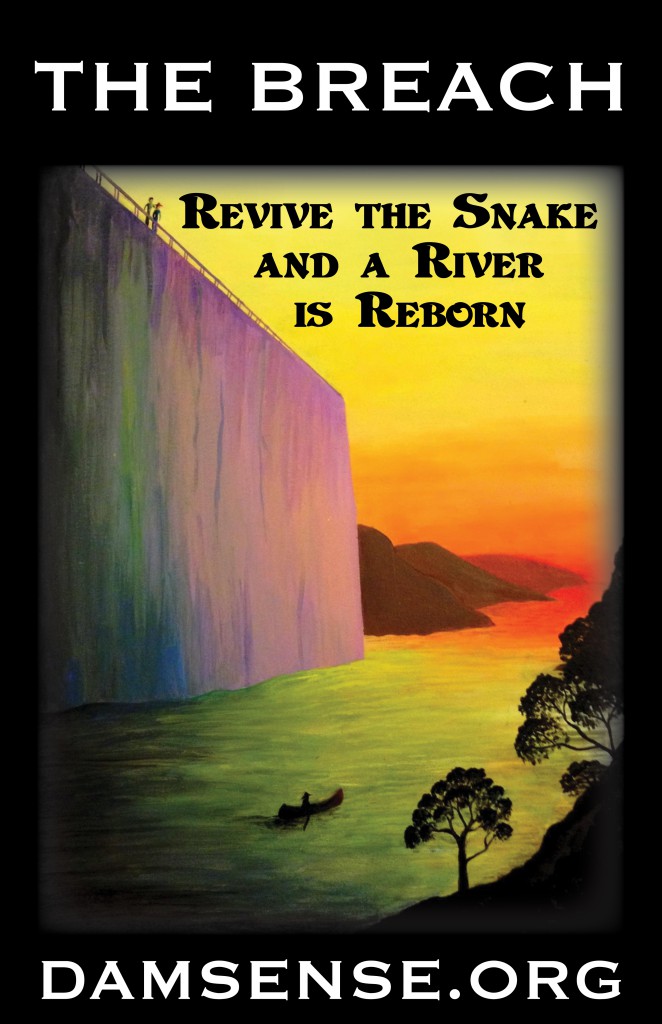 The 2009 Washington State Marine Forecast projects the growth of freight transportation on the Lower Snake from 2003-2030 to be 0.0 percent.[/pullquote] Barging on the lower Snake River from Lewiston through Ice Harbor Dam is in serious decline. Over the past 18 years, freight volume has declined 69 percent, and container shipments from the Port of Lewiston, the only port on the river that ships containers, had dropped at least 82 percent by early April 2015—and 100 percent by late April 2015. The 2009 Washington State Marine Forecast projects the growth of freight transportation on the lower Snake from 2003-2030 to be 0.3 percent. Today even this projection is proving too optimistic.
Increased rail fuel efficiency and the growing use of unit trains in Montana, Idaho and Washington have contributed to a shift from truck-barge to truck-rail for the shipment of grain to Pacific Northwest ports. Two unit train grain terminals have come on line in eastern Washington in the last 11 years, and  a third is being built west of Spokane and will be fed in part by short lines that penetrate the Palouse Prairie. Washington State is investing in bridge improvements so these short lines can service heavier cars at higher speeds.
A 2014 study by the Lewis Clark Valley Metropolitan Planning Organization cited rail improvements and construction of a unit train loader at the Port of Lewiston as the number one priority for improved transportation in the Lewiston area.
Wind energy has exploded in Washington and Oregon, tapping private investment and now producing more electricity by far than the four lower Snake River dams.
The National Academy of Sciences' 2012 report analyzing the U.S. Army Corps of Engineers' portfolio of aging infrastructure showed that the Corps is in "an unsustainable situation for maintenance of existing infrastructure."
Declining federal budgets imply the improbability of large injections of cash into the Corps' budget generally and the lower Snake River project specifically. Freight transportation on the lower Snake is so low that the waterway falls into the Corps' category of a river of "Negligible Use."
Climate change is already impacting the lower Snake River, with much greater impacts on the horizon that include increased sediment loads and increased costs for sediment management, higher water temperatures hazardous to endangered and threatened salmon, earlier spring run-off and generation of less hydropower.
We now have excellent examples of indisputably successful dam removal and river restoration projects: the Elwha and Glines Canyon dams on the Elwha River of Washington state, Condit Dam on the White Salmon of Washington state, four dams on the Penobscot River in Maine and Marmot Dam on the Sandy River in Oregon. The widely-celebrated removals of these large dams has reduced taxpayer waste and restored fisheries, injecting additional dollars into rural economies.
Nationwide screenings of the Patagonia-produced film DamNation have stirred spirits and educated a growing number of Americans, who see the film as a call to action. The film makes a convincing case that revisiting some of America's aging infrastructure—and removing some of it—only makes good sense for people, the economy and fisheries.
Serious loss of salmon smolts continues. Despite installation of over $ 700 million worth of hardware at the lower Snake River dams smolt to adult survival ratios for listed species have shown little improvement. Northwest rate payers and tax payers have spent more than $13 billion on salmon recovery measures that haven't worked for Snake River stocks, and that is money that could otherwise be invested into revitalizing riverside communities and clean, renewable energy that isn't lethal for fish.
Northwest tribes, many with salmon fishing treaty rights, have experienced incredible loss following construction of the lower Snake dams and resulting decimation of wild salmon. Salmon are a cultural, spiritual and economic resource for the tribes, and some, like the Nez Perce Tribe, continue to fight in court for removal of the dams and restoration of wild salmon.